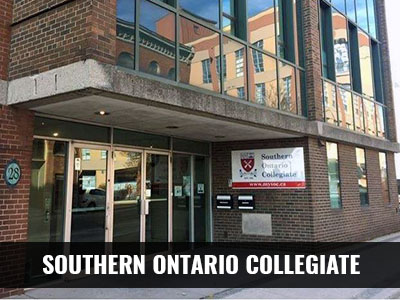 Southern Ontario Collegiate (SOC) has all the facilities needed for a great education. Our city-centre location does not have space for large sports grounds. However our campus has:
Multimedia projection classrooms.
A double floor, 300-seat auditorium.
A full sized gym.
A fully equipped computer room.
A cafeteria for breakfast and lunch on school days.

With over 500,000 people, Hamilton is Canada's 9th largest city. It is on the shores of Lake Ontario, between Niagara Falls and Toronto. Most international flights landing in Toronto. This means Hamilton is an hour's drive from the airport.
Hamilton has many geographical features. These include a large harbour, lakefront and the Niagara Escarpment that goes through an urban landscape. This provides gorgeous views and many waterfalls. Hamilton also has three post-secondary schools. They are McMaster University, Mohawk College, and Redeemer University College.
SOC is in the downtown core of Hamilton. It has easy access to Hamilton City Centre. The main city library, financial district, central train, bus stations, downtown mall, supermarkets, and banks are all within a 10 minute walk.